A Bookham Garden near Polesden Lacey
A garden loving couple living in Bookham contacted Marianne in Spring 2018 regarding designing a new terrace to complement a large house extension project that was due to be built in the following Autumn. However, when they heard soon after that the builder would be starting work in May there was an urgent need for Marianne to produce a design quickly as ground works and soil removal were needed in the garden before the extension could be built.
Marianne set to work but the brief was a complicated one: As well as a new terrace, steps and a ramp were need for accessibility as the site sloped fairly steeping up away from the house. They also needed raised planting areas, needed to keep existing mature plants for screening and wanted the design to include curves rather than straight lines. All these elements had to be achieved within in a relatively small space.
The solution Marianne created was a design featuring a central circular seating area within the terrace. On one side the circle leads to a series of steps and on the other side a block paving path curves away with both steps and ramp joining at a small landing overlooking the terrace and adjoining the existing garden path.
Raised beds surround the terrace in bold curved sweeps. The planting was kept low maintenance but with an emphasis on contrasting textures and evergreen perennials to keep interest throughout the seasons. The result is a beautiful calm space that has created a spacious feel beside the house whilst gently leading the eye away and up the garden towards mature plants and a pond and stream water feature which is to be the next stage of the garden development in 2020.
Marianne redesigned our back garden when we had a new extension built. Her design dramatically improved the appearance of the garden, making it seem much wider, whereas before it had appeared long and narrow. She also produced a planting plan, which she and her husband, Clive, then worked very hard to plant up. This has given us a good structure and a succession of interest at all times of the year, with space for future growth, spring bulbs and summer bedding. The garden was very colourful last summer and was much admired by all who saw it. Even in winter visitors are struck by how good it looks.
Marianne was sensitive to our requirements and adapted to take particular plant likes and dislikes into account and our desire to preserve some old favourites, while still achieving the right effect.
I have no hesitation in recommending Marianne and Clive. She will offer you the garden you didn't know you wanted.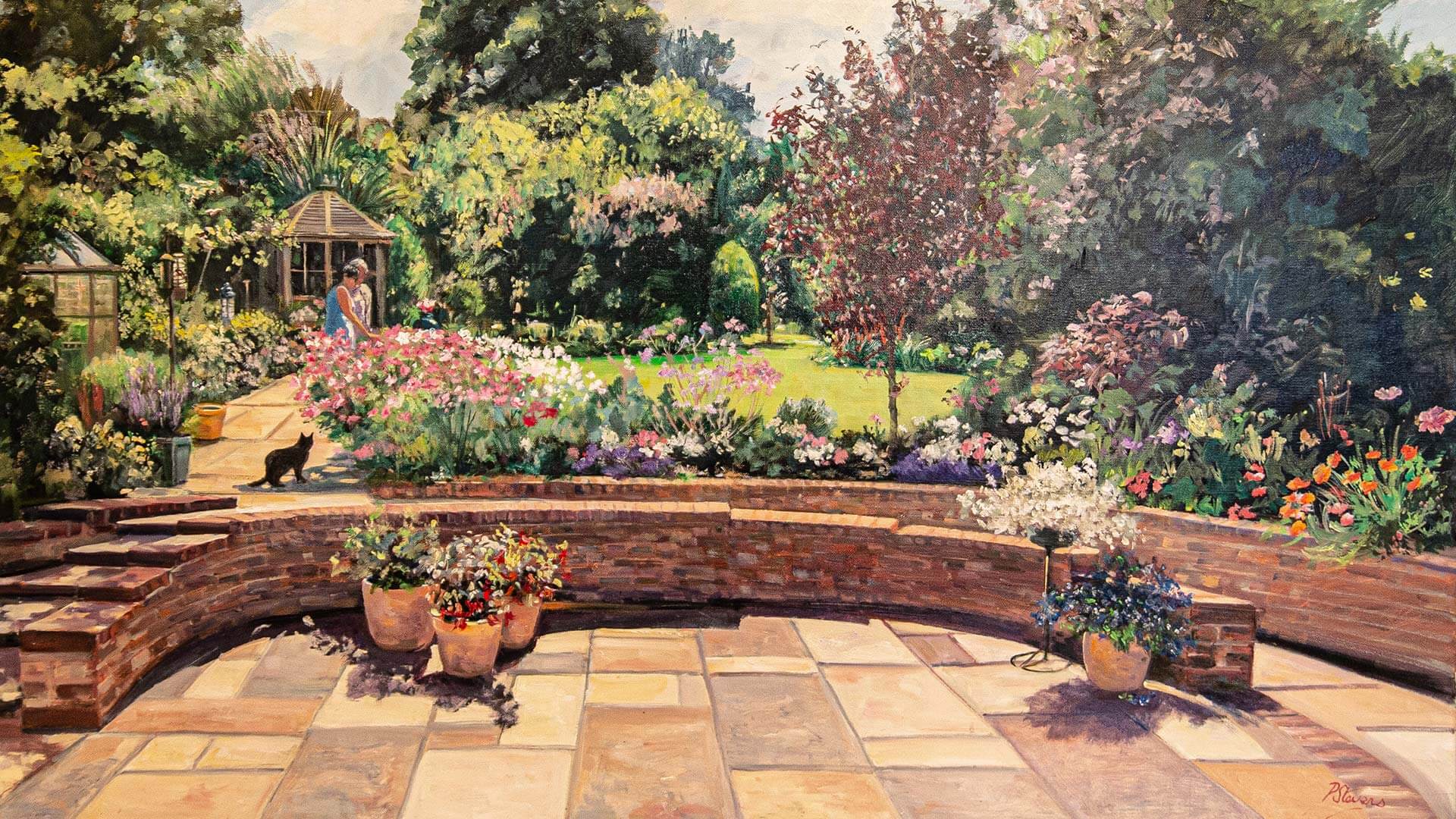 Painting by local artist Patricia Stevens
Looking to get a beautiful garden? Contact Marianne using the below contact information: